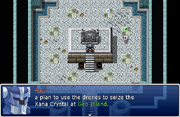 Geo Island
is one of the island in Radia's northern archipelago. Not much is known about this island at the current time (much of it will be up to the person who makes the chapter in which it appears!) It will be a focal point of the Gyth at some point in or after Chapter 5, as they plan to seize the
Xana Crystal
located there.
A character (SPOILERS) also mentions that they washed ashore at this island.
Ad blocker interference detected!
Wikia is a free-to-use site that makes money from advertising. We have a modified experience for viewers using ad blockers

Wikia is not accessible if you've made further modifications. Remove the custom ad blocker rule(s) and the page will load as expected.